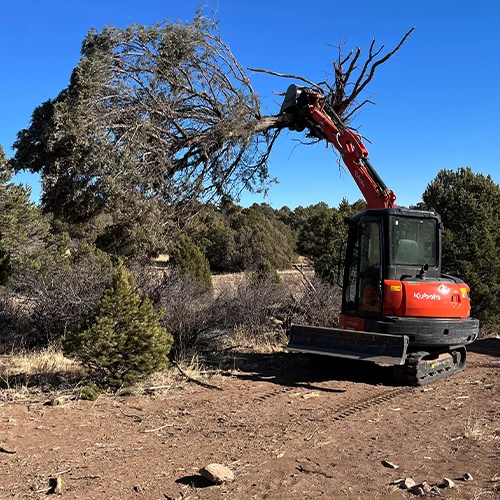 KW & Sons Excavating offers a wide range of services to support all phases of site preparation, including land clearing, grading, foundation work, basement excavation, street and parking lot construction, installation of water and sewer systems, curb and gutter installation, storm drainage and erosion control, and other related site work.
Whether you need support for a residential, commercial, or municipal building project, we have the expertise to help you get the job done.
Excavation is the practice of moving soil, rock, or other materials using explosives, machinery, or tools. It entails underground work, trenching, wall shafts, and earthmoving. 
Construction / Building Site Excavation
Preparing land for construction by clearing and leveling it is a complex and challenging task that demands the skills and expertise of experienced professionals. Knowledge of soil types, drainage conditions, and the use of appropriate equipment for excavation and leveling is essential for creating a strong foundation for a building.
The team at KW & Sons Excavating gathers detailed information about the soil, including its composition, water table, and frost line, to ensure that the foundation for our residential clients is stable and long-lasting.
Excavating
Rough and Finish Grading
Compacting
Underground Utility Installation and Repair
Concrete Demolition
Debris Removal
Septic Tank Installation and Repair Work
Site Clearing
Demolition Services
Bobcat Services
Land Demolition
Grading Services
Regrading Services
Resloping Services
Site Preparation
Building Site Preparation
Land Site Preparation
Construction Demolition
Residential Dirt Work
Commercial Dirt Work
Septic Services
Driveway Installation
KW & Sons Excavating has the necessary experience and modern digging equipment to complete any contract we make. When you receive a bid from us, you can be sure that the work will be delivered as promised and that the price will be right.
Land Clearing Services
Our land clearing services are the key to unlocking land potential. Whether it's preparing for a new construction project or readying the area for planting, you can trust our efficient land clearing process. We'll take out trees, shrubs, stumps, and even rock with the use of heavy machinery, getting your property ready for its next stage.
Land clearing services in  the mountain terrain of Colorado, involve the removal of large rocks and boulders, trees, brush, and other vegetation from a piece of land. These services are often used for a variety of reasons, including preparing land for construction, agriculture, or ranching, as well as for fire prevention and land management.
KW & Sons Excavating will typically use heavy equipment such as bulldozers, excavators, and chippers to remove trees and brush. We'll also use techniques such as grubbing, which involves removing the entire root system of a tree, and mulching, which involves shredding the vegetation and leaving it on the ground as a natural fertilizer.
Land clearing services may also include the removal of invasive species, such as noxious weeds, which can be detrimental to the local ecosystem. Additionally, land clearing can help to prevent the spread of wildfire by removing the underbrush and dead vegetation that can fuel a fire.