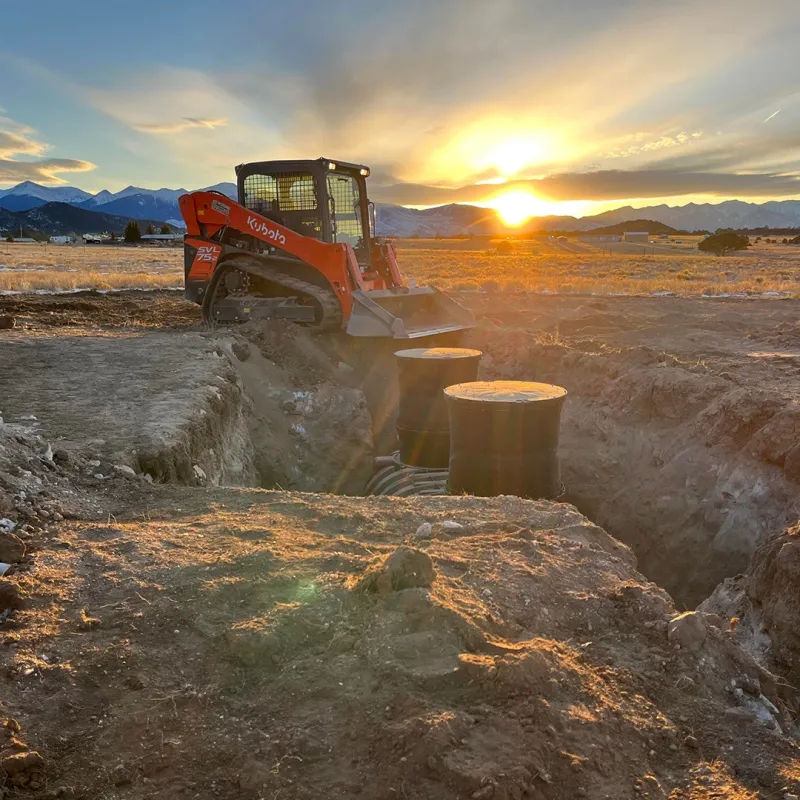 KW & Sons Excavating has been providing top-quality septic tank installation services to homeowners and businesses in the Arkansas Valley area of central Colorado to include Fremont County, Chaffee County, and Custer County.
We are based in Cotopaxi, Colorado and routinely have septic tank installation jobs scheduled in Cañon City, Salida, Westcliffe, Penrose, Florence, and Poncha Springs. We specialize in excavation in the mountains and on rough terrain.
We understand that installing a septic system can be a daunting task, but our experienced team of professionals is here to make the process as seamless and stress-free as possible.
Colorado Septic Regulations
Septic Regulations in Colorado Most Colorado residents living outside of centralized water treatment areas must install a private septic system. These systems filter solid waste from water and securely hold it, protecting the community's health and water supply.
Getting Started
Homeowners who require a septic system should seek assistance from KW & Sons Excavating. We'll assess your property and design an efficient system based on the location's unique characteristics.
Septic System Permit & Inspection
After the plans are in place, you'll need to apply to the local county health department and pay an application fee. Once we're finished installing your septic system, a county representative will need to inspect it before it can be used.
Licensing Regulations
We encourage you to consult and use licensed professionals like KW & Sons Excavating for their septic system design and installation. The State of Colorado Department of Public Health and Environment oversees septic system regulations.
Hiring a licensed contractor like KW & Sons Excavating guarantees system integrity and helps avoid costly problems and long-term damage.
Cost-Effective Septic Systems
We'll conduct a thorough site evaluation to determine the suitability of your property for a septic system. From there, we design and plan the most efficient and cost-effective septic system for your needs.
Our team is equipped with the latest equipment and technology to ensure that your septic tank is installed quickly and efficiently. We also make sure that our installation complies with all state and local regulations and codes.
And our job does not end with the installation, we also provide maintenance and repair services to ensure that your septic system is functioning properly and efficiently. We also educate our clients on how to properly maintain the system in order to avoid any problems.
Don't let a faulty septic system ruin your day. Contact us today and let us take care of all your septic tank installation needs in Colorado. Trust us to provide you with the best service and a worry-free solution for your septic needs.
Colorado Septic Tank Installation Process
Septic tank installation in Colorado involves the process of installing a septic tank and a drain field on a property that is not connected to a public sewage system. Septic tanks are underground structures that are used to treat and store waste from a property.
Site Evaluation
At KW & Sons Excavating, we are dedicated to providing the best septic tank installation services in Colorado. Our process starts with a comprehensive evaluation of your property to assess its suitability for a septic system. This evaluation considers various factors, such as soil conditions, the water table, and the slope of the land.
Septic System Design
Our team then designs and plans the septic system, taking into consideration the size and type of septic tank and drain field needed, as well as the optimal location on your property. The design of the septic system is a critical aspect of the septic tank installation process. Our experienced team of professionals takes into account the specific needs and requirements of your property, as well as the local regulations and guidelines in Colorado. 
Septic System Installation
Next, we utilize our heavy equipment such as excavators and backhoes to excavate the area for the septic tank and drain field installation. Our skilled professionals then carefully install the septic tank and drain field before backfilling the hole and restoring the area to its original condition.
It's important to note that septic tank installation in Colorado is subject to state and local regulations, so KW & Sons Excavating is licensed and experienced in septic system installation, and follows the current codes and regulations in place.
We understand the importance of a properly installed septic system and are dedicated to providing high-quality septic tank installation services in Colorado. Contact us today to schedule a consultation and receive a quote for your septic tank installation project.